ReadB4Contact
I came up with this concept to give student athletes that were low in confidence as it relates to their athleticism the opportunity to also show their talents during practice. The purpose of the "ReadB4Contact" is to bridge the gap between the most talented athletes and those who are less talented.
After observing the children for some years, I figured what better way to let that happen than academics. For example: the most talented child may not be the most talented academically and vice versa; so before practice I have those who are academically talented stand before their teammates and tell them what they have read. This process builds character, leadership and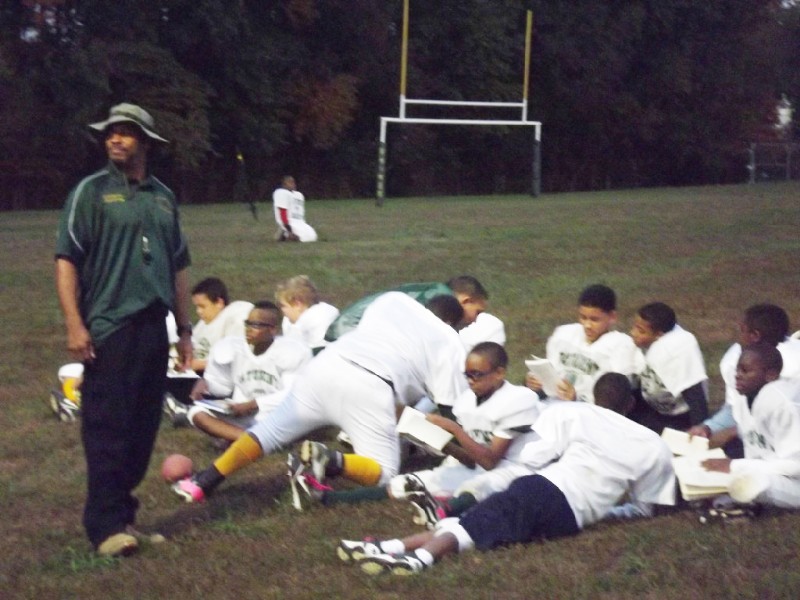 incorporates fun into learning. I let them laugh and make jokes as long as they are not disrespectful to others. All team members must give them their undivided attention.
I have some children that are "A" students, but on the field they lack confidence. This program allows the student athletes to speak about something that they are confident in and it gives them an opportunity to shine. For example: Steve cannot block, run, tackle, shoot jump shots or run very fast; but is very articulate and reads very well there academic confidence allows them to shine in front of their teammates. The top athletes then look at Steve in a different light. When you put two student athletes together, they can teach each other better. They can teach each other Algebra for example, better than adults, so that is the way of bridging the gap between athletics and sports while coaching the children. When I tell them to bring a book, all the children get excited. They really do look forward to the program. It gives them a chance to unwind from school and the books the children pick up are very interesting. You can pick up on their personalities based on the materials they choose to read about and what keeps their interest. It is up to me as the mentor to peak their interest even further. The program just broadens their horizons and lets them know that it is cool to read. If I reiterate to them later about reading, they are more apt to do it because it was implemented in our practice.
How It Works
I did a ReadB4Contact event where I had the football team with 11 or 12 year olds bringing whatever book they wanted to bring and then reading for 20 minutes. After they read, I asked them to stand up and talk about what they read. 100% of the children brought books and were excited about participating. That program is really important. They should not come to practice and do it as punishment, even if you do group homework before practice. It builds camaraderie, public speaking skills and erases shyness. Some children articulate better than others. Some are known to be shy and spoke about their books, and it is a win/win situation. The purpose is to build character--not focus on wins or loses--just build character and create leaders.
To The Coaches
I'm sure a lot of coaches are aware of different strategies that they can use to prepare our student athletes for life after sports. I just want to challenge ALL coaches to start implementing those strategies that they often think of, but don't apply them. We as coaches need to search deep down in our souls to find that passion to make sure that our student athletes are getting more from us as coaches than just the strategies and game planning that we give them to prepare for the season. We as coaches know what I'm talking about and that is the mentality that "winning comes first."
To Join Me in this Movement
Click HERE to download and print the Pledge and Certificate